Daily Superfood Sachet for Women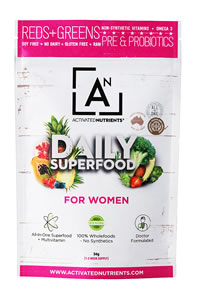 By using wholefoods instead of laboratory-manufactured nutrients, you are getting all the phytonutrients and enzymes that are found in the plant and accompany the major vitamins.
These co-nutrients actually allow the body to absorb nutrients more fully, optimising its benefit for the body
Reds & greens powders and pre/pro-biotics.
premium, 100% natural, wholefood based, plant and herbal derived supplement focused on the health needs of women; a once daily all-in-one alternative to synthetic multivitamins, reds & greens powders and pre/pro-biotics. 56gm sachet 1-2 weeks supply
The dosage can be adjusted depending on how healthy your diet is. If you eat 3 healthy wholefood-based meals a day, most people find that 1 teaspoon is the perfect amount to feel the benefits of optimal nutritional intake. If you feel your diet is in- consistent or lacking in nutrients, we recommend 2 teaspoons.
Price:
$18.50 AUD including GST
International orders will have the GST deducted at checkout.