"Stop Parkiní and Start Livin" by John Coleman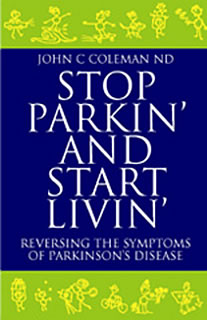 "Stop Parkin' and Start Livin'" is a do-it-yourself book on reversing the symptoms of Parkinson's disease, written by John Coleman - ND
In 1995, John, a Melbourne Naturopath, was suffering from Stage IV Parkinson's Disease and early Multi-System Atrophy, had lost his power of speech, was unable to walk 5 metres without assistance, and took an hour and a half to get dressed. Severely dissatisfied with western medical treatment and prognosis, John decided to pursue other methods.
In the book John dedicates one chapter to his experiences when working with the Aqua Hydration Formulas.
The book is clearly laid out with information on diagnosis, drug treatment, self-help activities and complementary therapies shown to be effective.
This is a must read for anyone diagnosed with Parkinson's disease (or any other degenerative disorder), family and friends, or therapists of any modality.
Price:
$17.00 AUD including GST
International orders will have the GST deducted at checkout.