Dr Jaroslav Boublik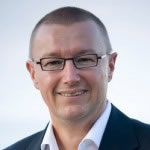 Dr. Jaroslav Boublik was the Scientific Director of AquaConneXions Pty. Ltd and was involved in the development of the Aqua Hydration Technology and The Aqua Formulas back in the early 1990's.
Dr Boublik was educated in Melbourne, Australia, and gained his B.Sc. (Hons) from the Department of Chemistry, Monash University, in 1981 and Ph.D. from the Department of Medicine, Monash University, in 1985.
Dr Boublik is an Associate Member of the Australian College for Nutritional and Environmental Medicine, a Member of the Royal Australian Chemical Institute, and a Chartered Chemist. He has held a Fulbright Postdoctoral Fellowship, a Neil Hamilton Fairley Postdoctoral Fellowship, and was an R. Douglas Wright Fellow.
Dr. Boublik has conducted research at Prince Henry's Hospital Medical Research Centre, The Shanghai Institute of Biochemistry in China, The Salk Institute, La Jolla USA, and the Baker Medical Research Institute in Melbourne, Australia. He has been an honorary lecturer at Monash University's Department of Chemistry, published over 30 peer reviewed and invited articles in scientific journals, 50 articles and commentaries in the general press, presented 40 scientific papers at research symposia, and is an inventor on four patents one of which – for the Aqua Hydration Technology - is held in 29 countries.
Dr. Boublik is a consultant to the R&D sector and a board member of several companies in nutritional medicine and complementary medical research and development. He is the nutritional adviser to several elite athletes, including Olympic and World Championship medalists.